Sunshine Hills for Women believes that each woman can be everything that God created them to be and that we won't put limitations on what they can do or be because of age or gender.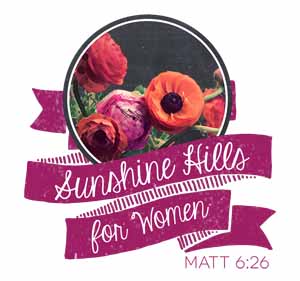 There are some wonderful events that we host during the year that are "just for us":
In the fall and spring we have our Jean Events where several brave woman of all ages (including our youth) share a part of their story. It's casual, it's yummy, and it is encouraging, if not a little tearful at times.
Our Cup of Christmas Tea takes place in late November and is a highlight of the season. Individual tables are beautifully set by a hostess; after enjoying our brunch and tea (or cider and good coffee) we are inspired by several demonstrations, hear a short encouraging word, and have an opportunity to shop at our Market Place.
June is retreat month; for two nights we are served and pampered in the beautiful setting of Cedar Springs Retreat Center. Ladies Retreat is meets so many needs for us. It is encouraging, refreshing, and a time to learn and to hear from God (and our speaker). It's a time to hike, or take a nap. It's a time to pray for each other, and to sing before the Lord. It's a time to be still, and to just breathe.
For information on these and other events for women, please contact the church office.