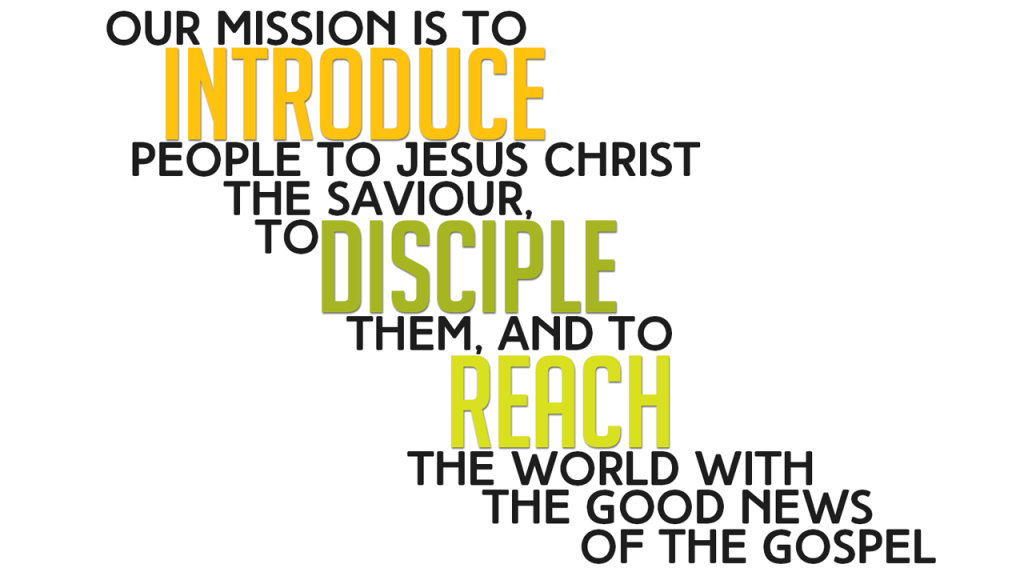 The Church is People
The Church is people and not a building or an event. The Sunshine Hills Church is not located at a physical address; it just meets at a specific place. The Church gathers to celebrate Jesus and to encourage each other in the Lord, (Hebrews 10:24-25).
When We Gather
We provide an environment that fosters spiritual growth, equipping people to become like Christ, and the building of a healthy interdependence and relationship between fellow believers: to see the church follow the example of the New Testament Church through dynamic expressions of worship through music and the arts, through Christ centered teaching that is biblical and relevant, encouraging people to be Jesus in their world.
Our Mission Statement (why we exist)
"Our mission is to introduce people to Jesus Christ the Savior, to disciple them and to reach the world with the good news of the Gospel."
Here are the three points of this mission expanded:
Introduce
Commitment to God…to bring people to a viable relationship with God through a personal faith in Jesus Christ.
Disciple
Commitment to the Body of Christ…to foster an environment of love, acceptance, and forgiveness where we can grow together as a community of loving brothers and sisters in Christ.
Reach
Commitment to those who don't know Christ…to reach a lost world with the good news that Jesus died for everyone and that His death made it possible to be restored to right relationship with God.
Our Vision Statement (where we are going)
"Our vision is to be a dynamic local church that provides healing and wholeness for our local community through the transforming power of Jesus Christ."
Our Core Values
We believe the church is people, not a building; a family of faith that represents all generations and cultures, so we will serve one another and the community through authentic and accountable relationships.

We believe in restoration and wholeness for everyone; so we will be a place of spiritual, emotional, and physical safety where love, acceptance, and forgiveness are always demonstrated.

We believe salvation is available for all; so we are passionate about providing opportunities for people to enter into a personal relationship with Jesus.

We believe the Bible is the Word of God and the authority for how we live our lives; so we will communicate the truths of God's Word in a loving and relevant way without compromising the life-changing message.

We believe the Holy Spirit is present and active today; so we will make room for the ministry, leadership, and gifts of the Holy Spirit in our personal lives and our public gatherings.

We believe worship is a way of life; so we will live to glorify God in all that we say and do.

We believe in the power of prayer; so we will contend for God to move on this earth, and believe in faith for the miraculous to take place.

We believe in intentional discipleship; so we will encourage everyone to deepen their relationship with Jesus, follow His example, and walk in maturity.

We believe in stewardship and generosity; so we will be responsible and open-handed with the talents, time, and resources that God has entrusted to us.

We believe in making a difference in our world; so we will support local and global missions by raising awareness, giving financially, and sending out teams to serve.
Our Foursquare Family
Sunshine Hills Church is a part of the Foursquare Gospel Church of Canada which is a part of the larger, global International Church of the Foursquare Gospel made up of over 150 national churches from around the world.
The Foursquare Church of Canada's head offices are located here in BC. Our current President, Steve Falkiner, and a National Board of Directors give leadership and vision, and administer the spiritual, relational, and corporate affairs of the National Church. Each local Foursquare Church here in Canada is responsible for its own administration under the stewardship of the National Church.